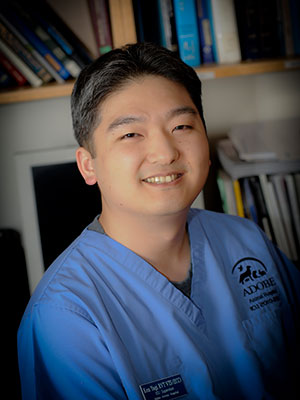 Kenichiro Yagi BS, RVT, VTS (ECC, SAIM)
Adobe Animal Hospital
Kenichiro Yagi, BS, RVT, VTS (ECC, SAIM) is a veterinary technician in the field for 16 years. He is a UC Davis graduate with a bachelor's degree in Animal Science and pursuing a master's degree in Biomedical Sciences with an emphasis in Veterinary Medicine and Surgery at the University of Missouri. He is currently employed at Adobe Animal Hospital in Los Altos as the ICU Manager and the Blood Bank Manager. He is an instructor at Foothill College and VSPN, and is the ECC trainer for PetED Veterinary Education and Training Resources. He serves as a board member for the Veterinary Emergency and Critical Care Society and the Veterinary Innovation Council, the treasurer for the Academy of Veterinary Emergency and Critical Care Technicians, and the NAVTA State Representative Committee Chairperson. He has published textbook chapters and articles and speaks internationally on topics in critical care, transfusion medicine, respiratory care, evidence-based medicine and critical care nursing. Ken invites everyone to ask the question of 'Why?' to understand the reasons behind the 'What' and 'How' of our field.
---