Pedicle Ties Provide a Rapid and Safe Method for Feline Ovariohysterectomy (1369)
Companion Animal Medicine | Orthopedic Surgery
Saturday | 5:00 PM - 5:50 PM
Henry B. Gonzalez Convention Center||301A
Speaker(s)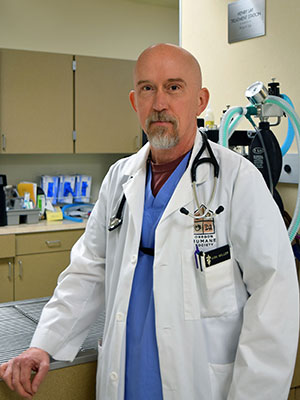 Kirk Miller DVM, Diplomate, ABVP
Oregon State University College of Veterinary Medicine
Kirk Miller graduated with a Doctorate of Veterinary Medicine from Colorado State University in 1995 and went on to an Internship in Small Animal Medicine and Surgery at the Angell Memorial Animal Hospital in Boston. He became certified in Canine and Feline Practice through the American Board of Veterinary Practitioners in 2002 and recertified in 2012. Dr. Miller has been a Clinical Instructor with the Oregon State University College of Veterinary Medicine teaching the Small Animal Primary Care rotation since 2007. Current research activities include investigating the natural incidence of heartworm disease in dogs in the Willamette Valley of Oregon, exploring the treatment of anorexia in shelter cats, and studying the safety and efficiency of high quality/high volume spay/neuter techniques.<br>He lives in Portland, OR with his wife, daughter, 3 cats and a dog. In his spare time he enjoys outdoor activities, rides/tinkers with a Russian motorcycle with a sidecar, and plays the mandolin in a Bluegrass band.
---
Presentation Info
CE Credit(s): 1.00
CE Level: 1

Description
Oregon State University and the Oregon Humane Society recently completed a study looking at ovarian pedicle ties in cats. The specific objectives of this study were to 1) evaluate the rate of hemorrhage-related complications across a large number of feline pedicle tie procedures and 2) evaluate for a difference in surgical time between traditional pedicle double-ligation and pedicle tie procedures.

Methods:

In the initial phase of the study 2136 intact female cats underwent an ovariohysterectomy using the pedicle tie technique. Hemorrhagic complications not detected intra-operatively were to be confirmed via exploratory surgery or necropsy. The second phase of the study recorded the duration of surgery for 4 groups: kittens undergoing pedicle ties (n=50), kittens undergoing pedicle double ligation (n=49), adult cats undergoing pedicle ties (n=50), and adult cats undergoing pedicle double ligation (n=54). Kittens were defined as a cat 4 months old or younger. Statistical comparisons of age, body weight, and surgical times between the pedicle tie and pedicle double ligation groups were performed within, but not between, kitten and adult cat categories.
Conclusions and Relevance:

The study demonstrated that the pedicle tie technique is associated with a very low risk for hemorrhage-related complications and is significantly faster than double ligating the ovarian pedicle in both kittens and adult cats. Use of the pedicle tie technique has the potential to be of significant economic benefit in institutions that are performing large numbers of feline ovariohysterectomies.
Learning Objectives
1. The attendee will be exposed to a new surgical technique and encouraged to try it

2. The attendee will be aware of pros/cons/and potential complications of this technique
Convention Notes
Convention notes require you to log in. Please click here to login