Enhancing the Welfare of the Geriatric Canine and Feline Patient: Environmental Management (1509)
Companion Animal Medicine | Geriatrics and Senior Wellness
Sunday | 8:00 AM - 8:50 AM
Henry B. Gonzalez Convention Center||301BC
Speaker(s)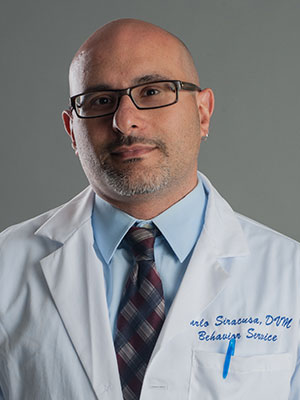 Carlo Siracusa DVM, PhD, MS, DACVB, DECAWBM
University of Pennsylvania
Born in Italy, Carlo Siracusa got his DVM from the University of Messina, Italy, and his PhD from the Autonomous University of Barcelona, Spain, defending a thesis on perioperative stress in dogs and the effect of pheromone therapy. He completed his residency in Animal Behavior at the School of Veterinary Medicine of the University of Pennsylvania, where he is currently the Director of the Animal Behavior Service. Carlo is board certified by the American College of Veterinary Behaviorists, and the European College of Animal Welfare and Behavior Medicine. His research interests are focused on stress evaluation in dogs; pheromone therapy; canine and feline temperament evaluation; prognostic factors and treatment outcome of behavior problems; cognitive changes in dogs with mucopolysaccharidosis.
---
Presentation Info
CE Credit(s): 1.00
CE Level: 1

Description
The welfare of household dogs and cats is not always perceived as a concern when compared to the welfare of production animals. However, household pets often experience poor welfare caused by the lack of adequate knowledge of their species-typical behavior. Among the 'five freedoms' at the base of animal welfare, the freedom to express a species-typical behavior is essential to a good quality of life and welfare. Cats and dogs living in close contact with humans may experience severe challenges to this freedom. Moreover, the welfare of geriatric patients can be especially compromised since other essential freedoms may be difficult to achieve, i.e. freedom from discomfort, disease and pain.
Providing geriatric dogs and cats with an appropriate environment, perceived as safe and comfortable, is an important first step to increase environmental predictability, decrease stress and enhance welfare. Pets of all ages should always have access to safe havens or core areas, where all essential resources are available and perceived threats are minimized. Often, safe havens and core areas have to be rearranged and the available space redistributed for geriatric patients, in order to guarantee a safe and ready access to low-stress areas. Changes in the social dynamic of the household group should be considered in this environmental management plan. Geriatric patients may in fact find it particularly challenging to manage their social interactions, particularly with young and active individual (i.e. young dogs and children). Therefore, the possibility to avoid these interactions on a voluntary basis should always be warranted to the animal.
Species-typical behavior, body language and communication, social interaction and space distribution in the geriatric patient will be reviewed.
Learning Objectives
1. Learning species-typical behavior of geriatric patients

2. Become familiar with environmental management for geriatric patients
Convention Notes
Convention notes require you to log in. Please click here to login