Practical Avian Nutrition (1643)
Companion Animal Medicine | Avian
Saturday | 2:00 PM - 2:50 PM
Henry B. Gonzalez Convention Center||301A
Speaker(s)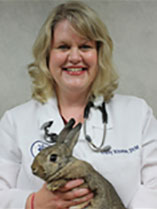 Tracey Ritzman D.V.M., Dipl. ABVP
Cascade Hospital for Animals
Dr. Ritzman graduated from North Carolina State University College of Veterinary Medicine in 1995. Dr. Ritzman is an associate veterinarian at Cascade Hospital for Animals in Grand Rapids, Michigan. <br>Dr. Ritzman is a board-certified specialist by the American Board of Veterinary Practitioners (ABVP) in both Avian and Exotic Companion Mammal Practice. Dr. Ritzman enjoys teaching veterinary students and technicians in the field of avian/exotic animal medicine and surgery.
---
Presentation Info
CE Credit(s): 1.00
CE Level: 1

Description
This presentation will provide a practical and interesting review of pet bird nutrition. What is currently known about pet bird nutrition will be presented as well as an update on the current diet options available to bird owners.
Several case examples will be presented to emphasize how important nutrition is for optimal health in our avian patients.
Learning Objectives
1. Provide a practical review of pet bird nutrition

2. Provide up to date information on commercial and homemade diets available

3. Discuss the importance of how proper nutrition influences optimal health
Convention Notes
Convention notes require you to log in. Please click here to login