Cloacal Disorders in the Avian Patient (1644)
Companion Animal Medicine | Avian
Saturday | 3:00 PM - 3:50 PM
Henry B. Gonzalez Convention Center||301A
Speaker(s)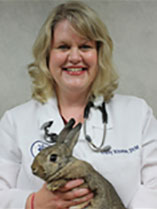 Tracey Ritzman D.V.M., Dipl. ABVP
Cascade Hospital for Animals
Dr. Ritzman graduated from North Carolina State University College of Veterinary Medicine in 1995. Dr. Ritzman is an associate veterinarian at Cascade Hospital for Animals in Grand Rapids, Michigan. <br>Dr. Ritzman is a board-certified specialist by the American Board of Veterinary Practitioners (ABVP) in both Avian and Exotic Companion Mammal Practice. Dr. Ritzman enjoys teaching veterinary students and technicians in the field of avian/exotic animal medicine and surgery.
---
Presentation Info
CE Credit(s): 1.00
CE Level: 1

Description
Cloacal problems are common in pet birds.
This presentation will provide a thorough and interesting overview of the most common cloacal disorders in pet birds. Many case examples will be presented to add interest and show examples of case work up and treatment. The use of cloacoscopy will be discussed as a useful diagnostic tool.
Learning Objectives
1. Learn about the most common cloacal disorders in pet birds

2. Learn how to diagnose and treat cloacal disorders

3. Learn about cloacal endoscopy and its diagnostic importance with diagnosing cloacal problems
Convention Notes
Convention notes require you to log in. Please click here to login