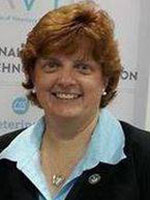 Melissa Supernor CVT, CFE, VTS (SAIM)
VCA Animal Hospitals
Melissa graduated from Becker College with an AS in Veterinary Technology in 1990, in 2000, she earned her degree in Psychology from Worcester State University. In 1988, she earned her CVT and in 2008, she earned her VTS in Small Animal Internal Medicine. Currently, Melissa is employed as the Hospital Manager at VCA Montgomery Road Animal Hospital and the Regional Technical Education. In 2013, Melissa started her own consultant company – Educational Advocates for the Veterinary Team (EdAVT). Her past work experience includes many different roles from specialty technician, clinical instructor and faculty in veterinary technician and veterinary assisting education, nutrition consultant and lecturer. She has been an active member of many different Veterinary Technician Associations, Massachusetts Veterinary Technician Association (MVTA), National Association of Veterinary Technician of America (NAVTA), and The Academy of Internal Medicine for the Veterinary Technician (AIMVT).
---