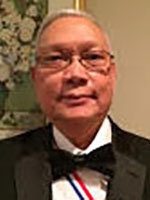 Nathaniel Tablante DVM, MPVM, MS, DACPV
University of Maryland College Park
Dr. Nathaniel Tablante is a Professor and Extension Poultry Veterinarian at the University of Maryland campus of the Virginia-Maryland College of Veterinary Medicine in College Park, Maryland. He has spent a large part of his career as a field veterinarian in the Philippines, Canada, and the United States and has more than 26 years of experience in poultry health management, epidemiology, and biosecurity. Since assuming a faculty position at the University of Maryland in 1997, Dr. Tablante has implemented an Extension and applied research program that focuses on improving poultry health and production through biosecurity and disease prevention. Dr. Tablante is also well trained in science communication and public policy, having served as President of the Council for Agricultural Science and Technology from 2011-2012 and as an AVMA Congressional Science Fellow in the U.S. House of Representatives from 2013-2014.
---